Measuring PPC and SEO is relatively straightforward. But how do we go about credibly measuring social media campaigns, and wider public relations and audience awareness campaigns?
As the hype level of social media starts to fall, then more questions are asked about return on investment. During the early days of anything, the hype of the new is enough to sustain an endeavor. People don't want to miss out. If their competitors are doing it, that's often seen as good enough reason to do it, too.
You may be familiar with this graph. It's called the hype cycle and is typically used to demonstrate the maturity, adoption and social application of specific technologies: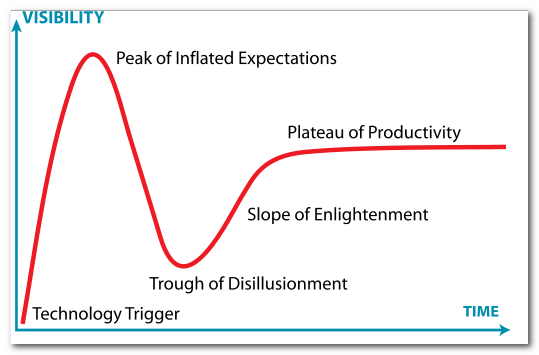 Where would social media marketing be on this graph?
I think a reasonable guess, if we're seeing more and more discussion about ROI, is somewhere on the "slope of enlightenment". In this article, we'll look at ways to measure social media performance by grounding it in the only criteria that truly matter – business fundamentals.
Public Relations
We've talked about the Cluetrain Manifesto and how the world changed when corporations could no longer control the message. If the message can no longer be controlled, then measuring the effectiveness of public relations becomes even more problematic.
PR used to be about crafting a message and placing it, and nurturing the relationships that allowed that to happen. With the advent of social media, that's still true, but the scope has expanded exponentially – everyone can now repeat, run with, distort, reconfigure and reinvent the messages. Controlling the message was always difficult, but now it's impossible.
On the plus side, it's now much easier to measure and quantify the effectiveness of public relations activity due to the wealth of web data and tools to track what people are saying, to whom, and when.
The Same, Only Different
As much as things change, the more they stay the same. PR and social media is still about relationships. And getting relationships right pays off:
Today, I want to write about something I'd like to call the "Tim Ferriss Effect." It's not exclusive to Tim Ferriss, but he is I believe the marquee example of a major shift that has happened in the last 5 years within the world of book promotion. Here's the basic idea: When trying to promote a book, the main place you want coverage is on a popular single-author blog or site related to your topic…..The post opened with Tim briefly explaining how he knew me, endorsing me as a person, and describing the book (with a link to my book.) It then went directly into my guest post– there was not even an explicit call to action to buy my book or even any positive statements about my book. An hour later, (I was #45 on Amazon's best seller list
Public relations is more than about selling, of course. It's also about managing reputation. It's about getting audiences to maintain a certain point of view. Social media provides the opportunity to talk to customers and the public directly by using technology to dis-intermediate the traditional gatekeepers.
Can We Really Measure PR & Social Media Performance?
How do you measure the value of a relationship?
Difficult.
How can you really tell if people feel good enough about your product or service to buy it, and that "feeling good" was the direct result of editorial placement by a well-connected public relations professional?
Debatable, certainly.
Can you imagine another marketing discipline that used dozens of methods for measuring results? Take search engine marketing for example. The standards are pretty cut and dry: visitors, page views, time on site, cost per click, etc. For email marketing, we have delivery, open rates, click thru, unsubscribes, opt-ins, etc"
In previous articles, we've looked at how data-driven marketing can save time and be more effective. The same is true of social media, but given it's not an exact science, it's a question of finding an appropriate framework.
There are a lot of people asking questions about social media's worth.
No Industry Standard
Does sending out weekly press releases result in more income? How about tweeting 20 times a day? How much are 5,000 followers on Facebook worth? Without a framework to measure performance, there's no way of knowing.
Furthermore, there's no agreed industry standard.
In direct marketing channels, such as SEO and PPC, measurement is fairly straightforward. We count cost per click, number of visitors, conversion rate, time on site, and so on. But how do we measure public relations? How do we measure influence and awareness?
PR firms have often developed their own in-house terms of measurement. The problem is that without industry standards, success criteria can become arbitrary and often used simply to show the agency in a good light and thus validate their fees.
Some agencies use publicity results, such as the number of mentions in the press, or the type of mention i.e. prestigious placement. Some use advertising value equivalent i.e. is what editorial coverage would cost if it were buying advertising space. Some use public opinion measures, such as polls, focus groups and surveys, whilst others compare mentions and placement vs competitors i.e. who has more or better mentions, wins. Most use a combination, depending on the nature of the campaign.
Most business people would agree that measurement is a good thing. If we're spending money, we need to know what we're getting for that money. If we provide social media services to clients, we need to demonstrate what we're doing works, so they'll devote more budget to it in future. If the competition is using this channel, then we need to know if we're using it better, or worse, than we are.
Perhaps the most significant reason why we measure is to know if we've met a desired outcome. To do that we must ignore gut feelings and focus on whether an outcome was achieved.
Why wouldn't we measure?
Some people don't like the accountability. Some feel more comfortable with an intuitive approach. It can be difficult for some to accept that their pet theories have little substance when put to the test. It seems like more work. It seems like more expense. It's just too hard. When it comes to social media, some question whether it can be done much at all
For proof, look no further than The Atlantic, which shook the social media realm recently with its expose of "dark social" – the idea that the channels we fret over measuring like Facebook and Twitter represent only a small fraction of the social activity that's really going on. The article shares evidence that reveals that the vast majority of sharing is still done through channels like email and IM that are nearly impossible to measure (and thus, dark).
And it's not like a lot of organizations are falling over themselves to get measurement done:
According to a Hypatia Research report, "Benchmarking Social Community Platform Investments & ROI," only 40% of companies measure social media performance on a quarterly or annual basis, while almost 13% or the organizations surveyed do not measure ROI from social media at all, and another 18% said they do so only on an ad hoc basis. (Hypatia didn't specify what response the other 29% gave.)
If we agree that measurement is a good thing and can lead to greater efficiency and better decision making, then the fact your competition may not be measuring well, or at all, then this presents great opportunity. We should strive to measure social media ROI, as providers or consumers, or it becomes difficult to justify spend. The argument that we can't measure because we don't know all the effects of our actions isn't a reason not to measure what we can.
Marketing has never been an exact science.
What Should We Measure?
Measurement should be linked back to business objectives.
In "Measure What Matters", Katie Delahaye Paine outlines seven steps to social media measurement. I liked these seven steps, because they aren't exclusive to social media. They're the basis for measuring any business strategy and similar measures have been used in marketing for a long time.
It's all about proving something works, and then using the results to enhance future performance. The book is a great source for those interested in reading further on this topic, which I'll outline here.
1. What Are Your Objectives?
Any marketing objective should serve a business objective. For example, "increase sales by X by October 31st".
Having specific, business driven objectives gets rid of conjecture and focuses campaigns. Someone could claim that spending 30 days tweeting a new message a day is a great thing to do, but if, at the end of it, a business objective wasn't met, then what was the point?
Let's say an objective is "increase sales of shoes compared to last December's figures". What might the social strategy look like? It might consist of time-limited offers, as opposed to more general awareness messages. What if the objective was to "get 5,000 New Yorkers to mention the brand before Christmas"? This would lend itself to viral campaigns, targeted locally. Linking the campaign to specific business objectives will likely change the approach.
If you have multiple objectives, you can always split them up into different campaigns so you can measure the effectiveness of each separately. Objectives typically fall into sales, positioning, or education categories.
2. Who Is The Audience?
Who are you talking to? And how will you know if you've reached them? Once you have reached them, what is it you want them to do? How will this help your business?
Your target audience is likely varied. Different audiences could be industry people, customers, supplier organizations, media outlets, and so on. Whilst the message may be seen by all audiences, you should be clear about which messages are intended for who, and what you want them to do next. The messages will be different for each group as each group likely picks up on different things.
Attach a value to each group. Is a media organization picking up on a message more valuable than a non-customer doing so? Again, this should be anchored to a business requirement. "We need media outlets following us so they may run more of our stories in future. Our research shows more stories has led to increased sales volume in the past". Then a measure might be to count the number of media industry followers, and to monitor the number of stories they produce.
3. Know Your Costs
What does it cost you to run social media campaigns? How much time will it take? How does this compare to other types of campaigns? What is your opportunity cost? How much does it cost to measure the campaign?
As Delahaye Paine puts it, it's the "I" in ROI.
4. Benchmark
Testing is comparative, so have something to compare against.
You can compare yourself against competitors, and/or your own past performance. You can compare social media campaigns against other marketing campaigns. What do those campaigns usually achieve? Do social media campaigns work better, or worse, in terms of achieving business goals?
In terms of ROI, what's a social media "page view" worth? You could compare this against the cost of a click in PPC.
5. Define KPIs
Once you've determined objectives, defined the audience, and established benchmarks, you should establish criteria for success.
For example, the objective might be to increase media industry followers. The audience is the media industry and the benchmark is the current number of media industry followers. The KPI would be the number of new media industry followers signed up, as measured by classifying followers into subgroups and conducting a headcount.
Measuring the KPI will differ depending on objective, of course. If you're measuring the number of mentions in the press vs your competitor, that's pretty easy to quantify.
"Raising awareness" is somewhat more difficult, however once you have a measurement system in place, you can start to break down the concept of "awareness" into measurable components. Awareness of what? By whom? What constitutes awareness? How to people signal they're aware of you? And so on.
6. Data Collection Tools
How will you collect measurement data?
Content analysis of social or traditional media
Primary research via online, mail or phone survey
Web analytics
There are an overwhelming number of tools available, and outside the scope of this article. No tool can measure "reputation" or "awareness" or "credibility" by itself, but can produce usable data if we break those areas down into suitable metrics. For example, "awareness" could be quantified by "page views + a survey of a statistically valid sample".
Half the battle is asking the right questions.
7. Take Action
A measurement process is about iteration. You do something, get the results back, act on them and make changes, and arrive at a new status quo. You then do something starting from that new point, and so on. It's an ongoing process of optimization.
Were objectives met? What conclusions can you draw?
Those seven steps will be familiar to anyone who has measured marketing campaigns and business performance. They're grounded in the fundamentals. Without relating social media metrics back to the underlying fundamentals, we can never be sure if what we're doing is making or a difference, or worthwhile. Is 5,000 Twitter followers a good thing?
It depends.
What business problem does it address?
Did You Make A Return?
You invested time and money. Did you get a return?
If you've linked your social media campaigns back to business objectives you should have a much clearer idea. Your return will depend on the nature of your business, of course, but it could be quantified in terms of sales, cost savings, avoiding costs or building an audience.
In terms of SEO, we've long advocated building brand. Having people conduct brand searches is a form of insurance against Google demoting your site. If you have brand search volume, and Google don't return you for brand searches, then Google looks deficient.
So, one goal of social media that gels with SEO is to increase brand awareness. You establish a benchmark of branded searches based on current activity. You run your social media campaigns, and then see if branded searches increase.
Granted, this is a fuzzy measure, especially if you have other awareness campaigns running, as you can't be certain cause and effect. However, it's a good start. You could give it a bit more depth by integrating a short poll for visitors i.e. "did you hear about us on Twitter/Facebook/Other?".
Mechanics Of Measurement
Measuring social media isn't that difficult. In fact, we could just as easily use search metrics in many cases. What is the cost per view? What is the cost per click? Did the click from a social media campaign convert to desired action? What was your business objective for the social media campaign? To get more leads? If so, then count the leads. How much did each lead cost to acquire? How does that cost compare to other channels, like PPC? What is the cost of customer acquisition via social media?
In this way, we could split social media out into the customer service side and marketing side. Engaging with your customers on Facebook may not be all that measurable in terms of direct marketing effects, it's more of a customer service function. As such, budget for the soft side of social media need not come out of marketing budgets, but customer service budgets. This could still be measured, or course, by running customer satisfaction surveys.
Is Social Media Marketing Public Relations?
Look around the web for definitions of the differences between PR and social media, and you'll find a lot of vague definitions.
Social media is a tool used often used for the purpose of public relations. The purpose is to create awareness and nurture and guide relationships.
Public relations is sometimes viewed it as a bit of a scam. It's an area that sucks money, yet can often struggle to prove its worth, often relying on fuzzy, feel-good proclamations of success and vague metrics. It doesn't help that clients can have unrealistic expectations of PR, and that some PR firms are only too happy to promise the moon:
PR is nothing like the dark, scary world that people make it out to be—but it is a new one for most. And knowing the ropes ahead of time can save you from setting impossibly high expectations or getting overpromised and oversold by the firm you hire. I've seen more than my fair share of clients bringing in a PR firm with the hopes that it'll save their company or propel a small, just-launched start-up into an insta-Facebook. And unfortunately, I've also seen PR firms make these types of promises. Guess what? They're never kept
Internet marketing, in general, has a credibility problem when it doesn't link activity back to business objectives.
Part of that perception, in relation to social media, comes from the fact public relations is difficult to control:
The main conduit to mass publics, particularly with a consumer issue such as rail travel or policing, are the mainstream media. Unlike advertising, which has total control of its message, PR cannot convey information without the influence of opinion, much of it editorial. How does the consumer know what is fact, and what has influenced the presentation of that fact?
But lack of control of the message, as the Cluetrain Manifesto points out, is the nature of the environment in which we exist. Our only choice, if we are to prosper in the digital environment, is to embrace the chaos.
Shouldn't PR just happen? If you're good, people just know? Well, even Google, that well known, engineering-driven advertising company has PR deeply embedded from almost day one:
David Krane was there from day one as Google's first public relations official. He's had a hand in almost every single public launch of a Google product since the debut of Google.com in 1999.
Good PR is nurtured. It's a process. The way to find out if it's good PR or ineffective PR is to measure it. PR isn't a scam, anymore so than any other marketing activity is a scam. We can find out if it's worthwhile only by tracking and measuring and linking that measurement back to a business case. Scams lack transparency.
The way to get transparency is to measure and quantify.