In the search ecosystem Google controls the relevancy algorithms (& the biases baked into those) as well as the display of advertisements and the presentation of content. They also control (or restrict) the flow of marketable data.
For example, a publisher might not get keyword referral data on organic search, but Google passes that data on via advertisements & passes a large amount of data on through their ad network to other ad networks. Consider this:
a DoubleClick tag on the site sent data to two other companies that collect it for various purposes — Rubicon and Casale Media, representing a "hop." In a subsequent hop, Casale transferred the IMDB data to BlueKai, Optimax and Brandscreen, while Rubicon pushed it to TargusInfo, RocketFuel, Platform 161, Efficient Frontier and the AMP Platform. AMP then sent the data on to AppNexus and back to DoubleClick.
For about a decade being relevant & focused created efficiencies that more than offset any "size = quality" biases that the Google engineers created. However across many verticals that window is closing & it is never a good idea to wait until it is fully closed to adjust. 😉
This shift from relevancy to "size = quality" can be seen in the stock performance of mid-market companies like BankRate & Quinstreet.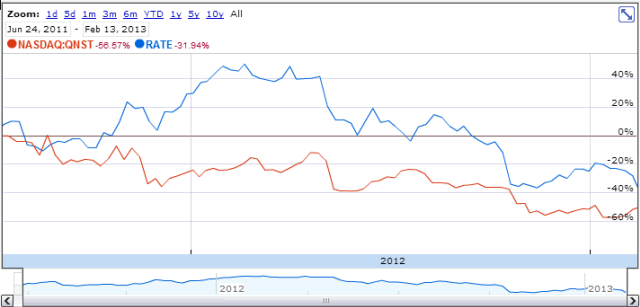 Those companies were laser focused on the markets that have significant consumer intent & traffic value, but Google has eroded the affiliate base & ad networks of many of the direct marketing plays for a couple years straight now.
If Google's algorithmic biases are strong enough to literally move the market on companies worth hundreds of millions to billions of Dollars, one is naive to swim against the tide. The market is becoming more bifurcated.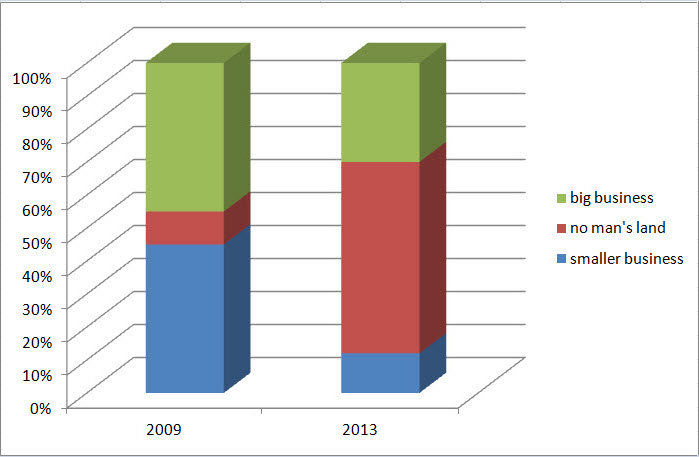 This is why it is so hard to find a great SEO to recommend for small businesses. If that SEO really knows what they are doing & understands the market dynamics, then they probably won't serve the small business end of the market very long, or if they do, they will do so in a way where their continued flow of payments is not tied to performance. It is hard to have a sustainable business operating in a closed ecosystem if you are swimming in the opposite direction of that ecosystem.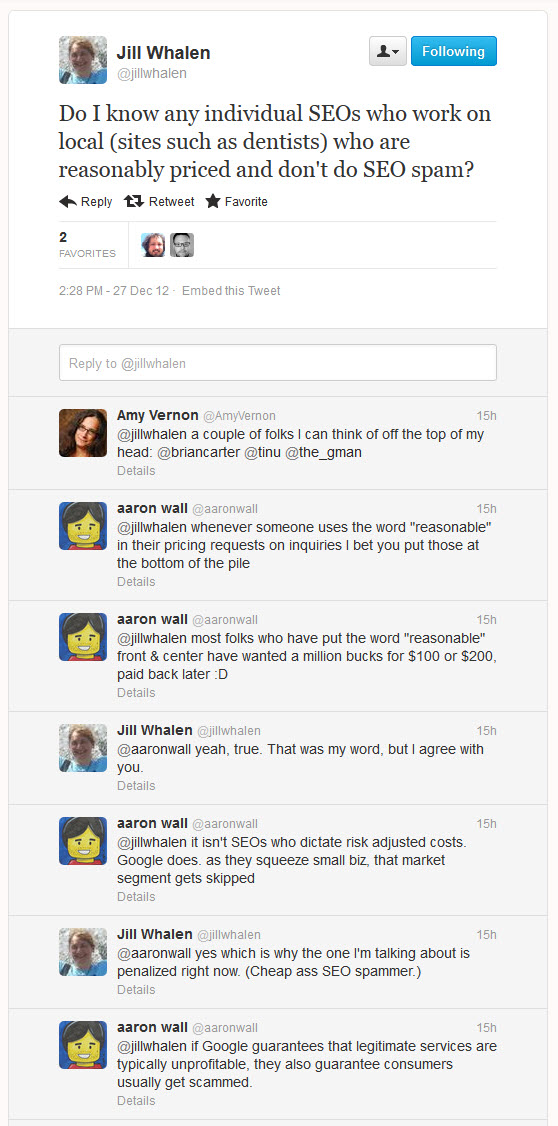 In terms of our membership site here, a good slice of our customer base is the expert end of the market.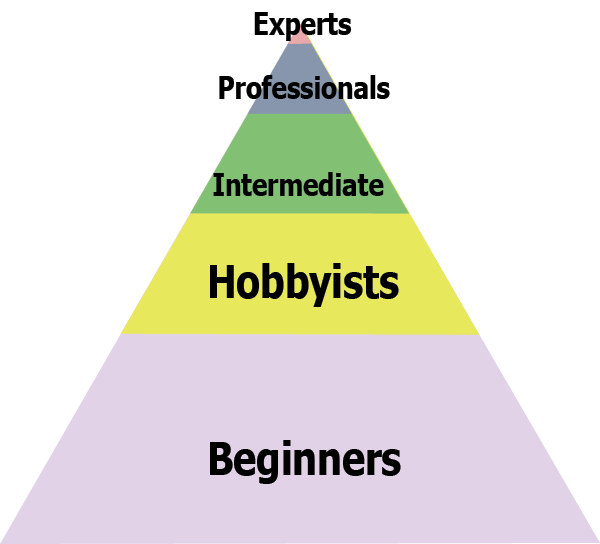 It is a tiny sliver of the market, but it is a segment that is somewhat well aligned with independent affiliate types & the sort of direct marketing relevancy-minded folks that Google has spent a couple years trying to marginalize as they cater to branded advertisers. We could try to shift our site to make it more mass market, but I prefer to run a site where we both learn & teach, and fear that moving to lower the barrier to entry and push more mass market will destroy what makes the membership site unique & valuable in the first place.
In early Google research they warned about relevancy shifting toward the interest of advertisers.
Currently, the predominant business model for commercial search engines is advertising. The goals of the advertising business model do not always correspond to providing quality search to users. For example, in our prototype search engine one of the top results for cellular phone is "The Effect of Cellular Phone Use Upon Driver Attention", a study which explains in great detail the distractions and risk associated with conversing on a cell phone while driving. This search result came up first because of its high importance as judged by the PageRank algorithm, an approximation of citation importance on the web [Page, 98]. It is clear that a search engine which was taking money for showing cellular phone ads would have difficulty justifying the page that our system returned to its paying advertisers. For this type of reason and historical experience with other media [Bagdikian 83], we expect that advertising funded search engines will be inherently biased towards the advertisers and away from the needs of the consumers.
Perform that same cellular phone search today & that original cited page is nowhere to be found. Today that same search includes Wal-Mart, T-mobile, Samsung, Amazon.com, Best Buy & other well known brands. Search for the more common phrase cell phones & you get the same brands plus local results and shopping results. Awareness is replacing precision.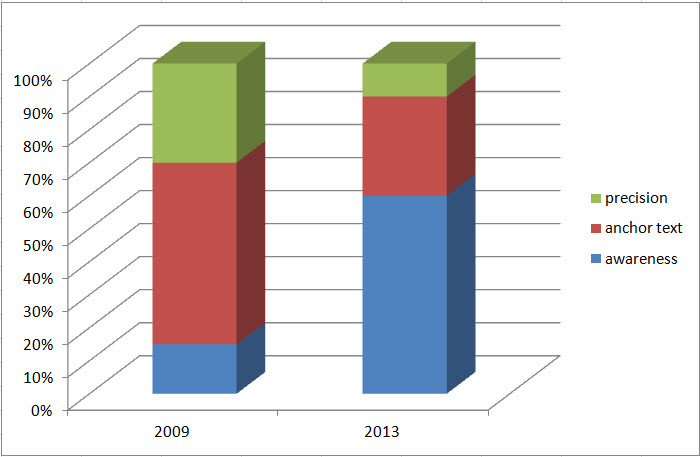 I think Gabe Newell described it best:
Closed platforms increase the chunk size of competition & increase the cost of market entry, so people who have good ideas, it is a lot more expensive for their productivity to be monetized. They also don't like standardization … it looks like rent seeking behaviors on top of friction
As Google makes search more complex & mixes in more signals, it is becoming harder to win at the game if your operation is singularly focused on SEO & it is becoming easier to win if your business already has a strong footprint in many other channels which bleeds into your search profile. The following chart is conceptual, but it aims to get the issue across.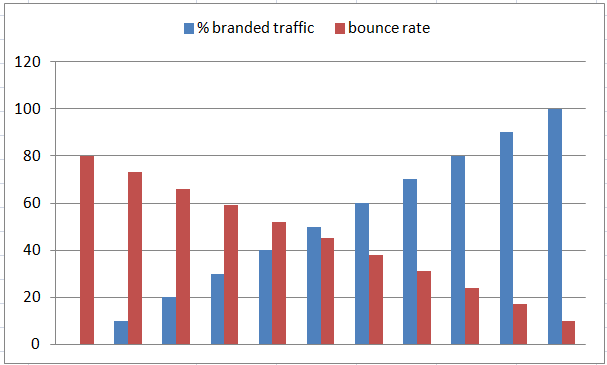 If one company is spending significant capital & effort trying to combat the Panda algorithm & another company automatically sees a ranking boost from Panda, then the company with the boost is typically going to see greater ROI from any further investments in SEO.
Having spilled all the above digital ink, back in 2007 we decided to shift away from an ebook model to run a membership site. On and off over the years we have done a bit of consulting outside of running this site, but haven't put significant emphasis on it over the past couple years as we were pushing hard to keep up with the algorithms & keep this site growing. With all the above shifts in place we recently decided to offer SEO consulting again.
Some FAQs on that front…
If we work with you, who will be working on our project? The same people who write on the blog & run the community: Peter Da Vanzo, Eric Covino & Aaron Wall.
How many clients will you work with? Just a handful at any given time. We prefer to have a deep integration with a few clients rather than a bulk model.
Who are ideal clients? Those who know the value of search traffic & already have some general awareness & momentum in the marketplace. Examples of companies we have worked with in the past include: large ecommerce companies, tier 1 web portals, strong start ups & hedge funds invested in the web. Many of these clients already had an in-house SEO team & some were just actively beginning to leverage search.
I have a tiny company with a small budget. Could I still work with you? In some cases there might be a fit, but if you feel our consulting is beyond your budget you can of course still join our membership website. Consulting is for those who want a deeper engagement than we can provide through our current membership site model.
Can you name some past clients? For the most part, no. Our consulting projects typically come with nondisclosure agreements.
Can you fill out an RFP? Most likely not. If you are still shopping around for an SEO, we are probably not going to be a great fit. But if you have known of us for years & know you want to work with us, do get in touch.