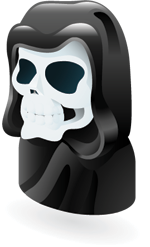 When is a link not okay? When will you get a penalty for linking to someone else? When will you get a penalty if someone links to you?
This area grows ever more complicated.
The old-hands will know this, but those newer to SEO are justified if feeling confused.
Interflora UK
The Interflora UK site was recently dropped from top position in Google, although it looks like they've now returned. As we've seen in the past, major brands typically return quickly, because if visitors don't see a brand they expect to see, then Google looks deficient.
According to this excellent analysis by Anthony Shapley, the Interflora site was likely dropped due to an abundance of links coming from regional newspaper sites. These sites contained "Advertorial" content that looked something like this: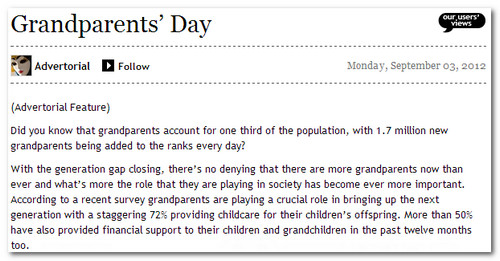 Whilst similar pages don't appear to have inbound links to Interflora UK now, it's clear from Anthony's analysis that they did previously. In turn, sites featuring the Advertorials appear to have suffered a decrease in PageRank. If they were selling space for the purposes of flowing PageRank then that value has likely diminished.
According to SearchEngineLand:
Google has downgraded the Toolbar PageRank scores for several dozen UK operated newspapers and news sites today. It is believed the reason Google has downgraded their PageRank scores is because they were selling links on a massive scale
But What's This?
So, are Advertorial backlinks "evil"?
It would appear so.
Then again, maybe not, if you happen to be Google. Aaron spotted an advertorial placement – sorry, "Information Feature" – last week. Google appear to be placing content too, complete with backlinks that aren't no-followed.
When they do it, it's okay? Or is this simply an "unfortunate oversight" on the part of one rogue tentacle of the sprawling Google octopus? Given Google's previous stance on such issues, it's probably the latter. But how many webmasters, especially webmasters of minor web properties, can claim "an unfortunate oversight" in their defense? And if they do, would they receive a fair hearing?
Still, Google, as an organization have done a good job of building their brand, and like most major brands, I'm sure we'll continue to see them at the top of search result pages. It helps, of course, that if there are any real problems in terms of penalties delivered by an algorithm, or a quality rater who has temporarily forgotten who pays her wages, someone in the search quality team can talk to someone else in the search quality team and clear up any misunderstanding.
And why not? There's got to be some advantage in being big – and owning the show – right?
What About Guest Columns?
What's an advertorial?
If someone guest posts on a site, and links back to their site, is that an advertorial? A lot of media websites are run that way. How would an algorithm tell the difference?
But doing so is a standard marketing 101 practice from a time before search engines existed. It's not a crime to link to another site. It's not a crime to place self-promotional content on another site that leads back to your own. The visitor traveling across the link is the payoff.
But SEOs know about another layer of pay-off, regardless of visitor traffic.
Google may argue that it's safest to put a "no-follow" attribute on the link, which indicates intent i.e. "I'm not doing this because of what I read in The Anatomy of a Large-Scale Hypertextual Web Search Engine, honest guv!", but that seems to be an arbitrary way of doing things given people in the SEO community know what a no-follow is, but most webmasters and publishers don't. Most links won't be no-followed, regardless of intent.
If Google don't think the content, and link, is of sufficient quality, then why not just degrade it? Why does the publisher need to jump through arbitrary hoops that won't apply to everyone, equally? Does the fact a page is labelled an "Advertorial" mean it receives special attention? If so, then won't we simply see more "integrated" editorial "solutions" in future?
The line is rather blurry.
Best Practice
In the case of Interflora UK, it seems the link problem was largely due to scale. Rule #1 is don't embarrass Google, and a lot of links coming in from near-identical, low-quality content is a sure-fire way to do so.
It was almost certainly a hand edit, as this practice has been going on for some time, so given the sites are crawled, and in the index, and rank well, as they have been doing for a while, then we can probably assume the algorithms had no issue with them, at least up until recently.
Perhaps a competitor raised the alarm?
Difficult to know for sure.
It's a good marketing opportunity for Google in that they get to put many webmasters and SEOs on notice again. "Content placement" is not within the guidelines, and if you do it, they may hit you if we see you.
So many webmasters start to fret about where, exactly, the line is drawn.
Google issued a reminder the same day:
Google has said for years that selling links that pass PageRank violates our quality guidelines. We continue to reiterate that guidance periodically to help remind site owners and webmasters of that policy. Please be wary if someone approaches you and wants to pay you for links or "advertorial" pages on your site that pass PageRank. Selling links (or entire advertorial pages with embedded links) that pass PageRank violates our quality guidelines, and Google does take action on such violations.
Pretty clear. If you want to stay well within Google's guidelines on this issue, don't run Advertorial pages with links to the site that paid for them, and don't be the target of same. As we speak, there will likely be hundreds of webmasters pulling down Advertorial-style campaigns. At very least, I'm sure SEOs will be disinclined to label them as such in future.
It raises an interesting issue, though. What's to stop a competitor doing this? Running an Advertorial campaign on your behalf, reporting you, and taking you out. And if you're a minor player, will you get a fair trial?
Dastardly competitors aside, the best way to avoid this type of penalty is to ask yourself "What Would Matt Cutts Do"? Matt's blog is the model for safe linking.
A link needs to be tightly integrated with editorial. A rule of thumb is that the editorial should be closer to balanced journalism and personal opinion and further away from PR – as in press release. The interesting thing about this case is that a lot of press releases will likely fit an Advertorial definition. This is not to say you'll receive a ban if you're linked to from a press release, or if you carry a press release you'll be degraded, but you probably need to be a little wary of badly "written" press releases displayed in a…cough…."systematic" way.
The other rule of thumb is "would this pass human inspection and will that human see the content as editorial"? If so, even if you don't have a no-follow link, it should be fine. If it's not, then most of the web isn't okay, including many of Google's own properties.
Those who don't care about Google's guidelines probably got a good case study in how well Advertorial-with-link placement can work, at least up until such time as the campaign pitches-up above-radar.